The Vlora Codices No. 5 and No. 10
Vlora codex No. 5 is a Tetraeuangelion. It contains the continuous text of the gospel according to Matthew, Mark, Luke and John. It has 308 parchment sheets, measuring 23 x 18 cm. The text is written in column of 22 lines. Although original miniatures of the codex have been replaced by later miniatures painted on paper and glued to parchment, the paleographic features of the writing as well as the data and the decorations of the codex testify to a production of the 12th century ateliers of Constantinople. The decorations found on tables of Eusebius, such as the decorations above the headings and initial letters placed at the beginning of each chapter, attest directly to the evolution of the emblematic floral style of Byzantine art in manuscripts known as Blütenblattstil. This style initially appeared in decorations of Constantinopolitan codices from the Macedonian Renaissance, and its corresponding variations, and continued its use up to the Palaeologan period (as witnessed by the case of Vlora Codex No. 10).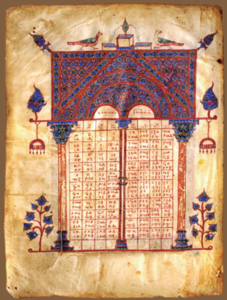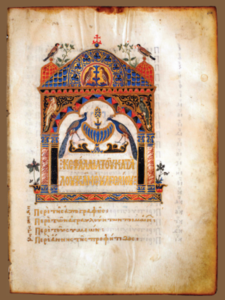 The volume of the codex is bound by protective wooden covers which are lined with brown leather. At the four corners of the front cover, engraved on silver plates, are the bust images of the four evangelists.
Reference
A. Rembeci, S. Çunga, "The Canon Tables of the Gospels by Eusebius of Caesarea. Headpiece decoration before the chapters of the Gospel according to Luke", in: Water in Arts and Crafts in the Berat Region, Tirana, 2015.
More
Go here for more information.
Picture: Headpiece decoration before the chapters of the Gospels according to Luke, end of the 14th – beginning of the 15th century, tempera on parchment and golden leaf, 28.4 x 21 (folio). Provenance: Church of Saint Vlassios, Vlora, Metropolis of Berat. Kept in: Central State Archive, Tirana, Codex No. 10 of Vlora.
–  Genta Rexha, Albanian University