Preparatory Phase
In this Preparatory Phase (2022-2026), the basics are laid for the Research Infrastructure, which will be implemented starting 2026. In the years to come, services will be defined, prioritized and developed in close cooperation with future users.
Platform Design Thinking
One way of looking at the process we are in is from the perspective of platform design thinking.
The research infrastructure itself, the facility that enables scientists and research communities to conduct research and to enhance innovation in the field of Religious Studies, connects the best of two worlds: that of Religious Studies research and that of technology, such as big data, High Performance Computing and Artificial Intelligence. As a result, innovation can be achieved in this field. The infrastructure together with the services provide a platform, on which future users and suppliers can meet, exchange, learn, find and spread knowledge, and profit in many other ways. Together they form an ever-expanding ecosystem from which each can benefit and to which each can contribute.
Ecosystem
In the platform design thinking theory, this environment is called an ecosystem. In a user centered and impact oriented approach, this ecosystem is ultimately what matters. In this system, people are enabled to make use of each other's inputs and services, with the RI facilitating and encouraging this, without providing one-size-fits-all solutions. When implemented, the ecosystem will continue to evolve, based on the needs and input of users and contributors.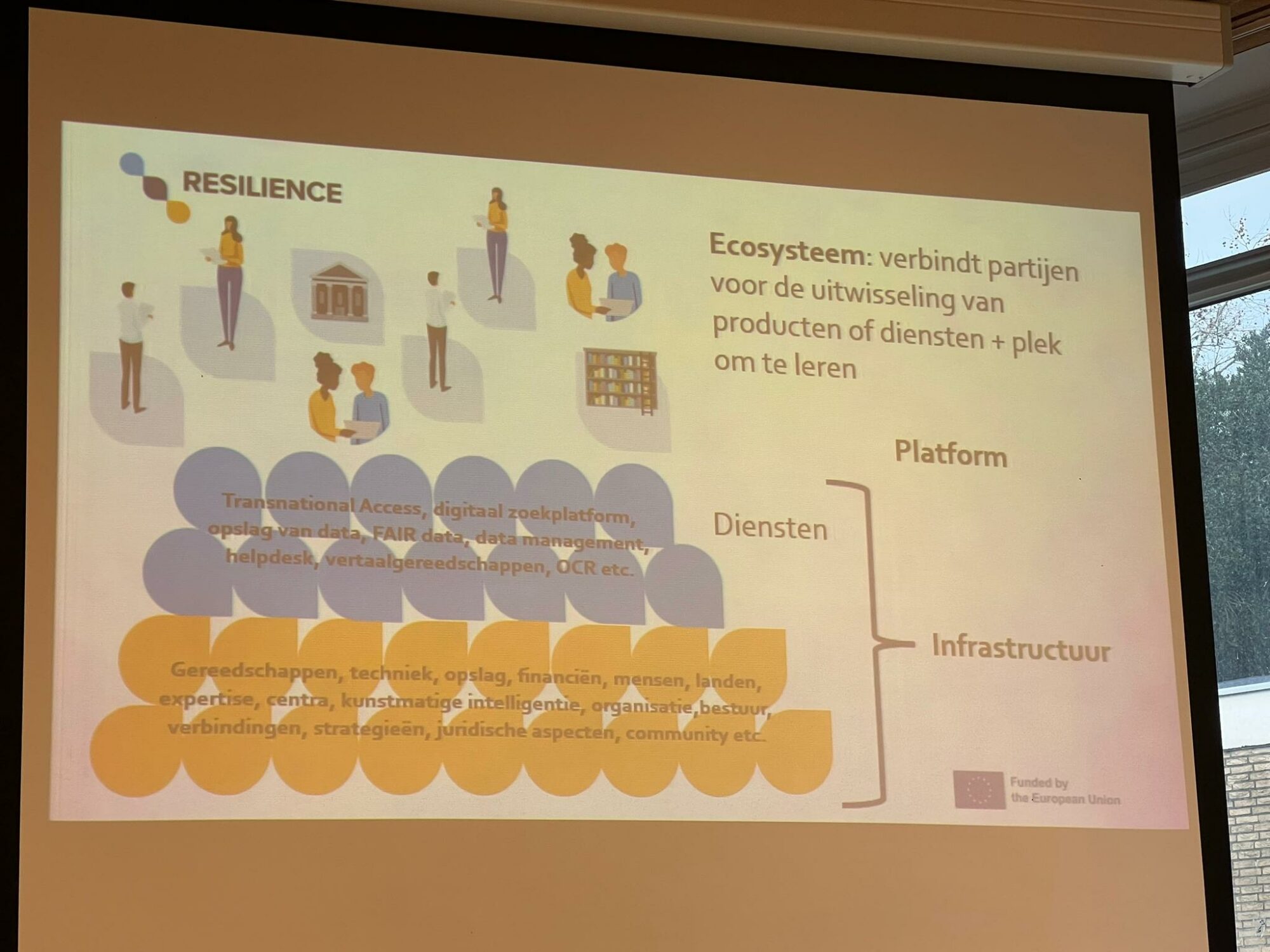 Reflection
The consortium is currently facing the challenge of clarifying through in-depth reflection what technical components such as big data, High Performance Computing and Artifical Intelligence can mean for the Research Infrastructure and how in coordination with future users this will take shape. There is still much work to be done in the coming years.
Karla Boersma: "Platform design thinking is an exciting and promising approach. It requires us to think creatively. It also encourages us to work closely with the users of our RI, to find new ways to meet the needs of future generations of researchers, and to be constantly in line with them."
Biblical Scholarship
Of particular interest to TUA employees were the future services and tools. As one attendee said, it would serve biblical scholarship immensely if there were translation tools for various and sometimes ancient languages and if researchers could access sources more easily, either physically or digitally. Also help in setting up a Research Datamanagement Plan by doctoral students would be highly appreciated.