This is what Giancarlo Anello told us:
"The Foundation SCIRE of Bologna is a leading institution for all the scholars interested in religious studies. I had the opportunity to spend two weeks studying and researching in the Library, being hosted in the close "Foresteria", which is just 1 minute walking from the Library.
Luxury Time
Occasions of a residential period of studying and researching are real "luxury time" in the life of every academic. It means to have the possibility to focus on his/her own researching interests examining directly and immediately thousands of books and resources that are at disposal of the researcher.
Library
The Director of the Library, Davide Dainese (who is with me in some pics), after explaining me some rules and information, let me move in the library as an insider, with the maximum freedom and autonomy. It was a joy for me to discover the topographic system of cataloguing the books loosing myself into the amazing labyrinth of the Library.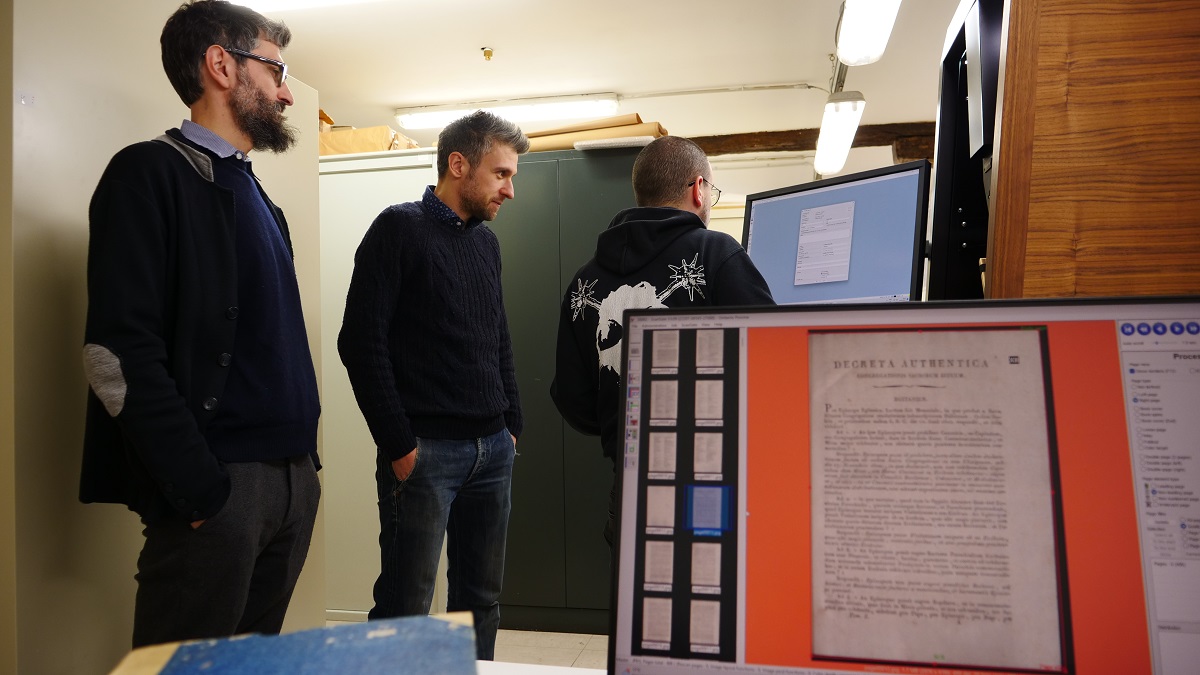 Other Work
Moreover, I had the possibility to join the ordinary life of resident researchers, for example, presenting my work about "An alternative History of Legal Personality" for two hours and half to the phD canidates, along with professional academics and receiving from them questions, comments and feedbacks; being part of an international seminar organized by the Foundation https://www.fscire.it/news/guerra-anno-i hosting relevant scholars, diplomats, and politicians (first of all former Italian PM Professor Romano Prodi); attending the PhD graduation and ceremony along with students, their families and friends; working with skilled librarians who helped me in doing some researches, finding the correct way to quote a manuscript of XIII century, and explaining me the newest technique to preserve old books and incunabula.
City
Finally, Bologna is a beautiful city and it was great to spend free time and weekends walking under its long and famous arcades that are considered by UNESCO as world heritage by themselves."
About the Project
"An alternative History of Legal Personality" is a project investigating the sacred origins of the corporate form: it emphasizes the role of the Canon Law in developing the moral premises of corporate form and in giving birth to a systemized set of rules regulating corporations.
About the Person
Giancarlo Anello studied law in Palermo, Rome, and Arabic in Damascus, Nizwa, Tunis, and Amman. He is currently Associate Professor at the Department of Humanities, Social Sciences and Cultural Industries (DUSIC), University of Parma-Italy. Giancarlo Anello is a KAICIID Fellow for 2021 and a member – since the Zero Conference – of EuARe (European Academy of Religion).
***
Thank you very much for this interview, Giancarlo Anello! We wish you all the best for your research.