Role of Religion in Greece
The English/Greek language book offers a useful glimpse to an unimaginable world of cultural, anthropological and religious interest represented by photos of regular religious life, which are only a part of a digital depository full of images and photos covering a wide range of objects relevant to experts and researchers in various fields. Physical and digital materials are present in the book, that can be used as a manual to build basic knowledge concerning the role, religion plays in certain areas of human life in Balkan area (Greece).
Content
As the title indicates, the album focuses on a lesser-known part of the ecclesiastical world of the region, which, despite its aesthetic and often archaeological interest, has not yet been recognized as a pole of interest. However, there are also shots from emblematic churches of the region, such as the church of Taxiarches in Milies, or the church of St John the Baptist in Makrinitsa, Pelion, while the last part of the book attempts to capture the ceremonial life, both in central churches of the city of Volos, and in churches of the suburbs and of remote villages. Based on concepts of contemporary cultural anthropology, the two photographers record what they come across with no attempts of beautification; they search for the particularity hidden in everyday details, they attempt to overarch the separations between the past and the present and finally they highlight the beauty that results from the combination of all the above elements.
20 Years of Work
The album is the fruit of almost twenty years of work (with images dating from Easter 2005 to October 2022) and incorporates two different perspectives that essentially talk to each other; that of the "local" Costis Drygianakis who knows the geography of the area and its "web of meanings" and that of the "newcomer" Olya Gluschenko –from Voronezh, Russia– who approaches the same subjects unbound from the usual stereotypes. These two viewpoints, each in its own way, trigger questions on what is considered self-evident but also call for receptivity towards the unknown, pointing out the strength of the weak and the weakness of the powerful, the volatility of the stable and the permanence of the transitory, and ultimately attempting a transcendence of all kinds of dualisms.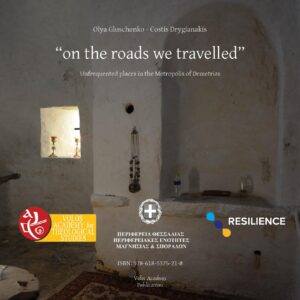 More
Go here to read more and to order the book.
Olya Gluschenko & Costis Drygianakis, "On the roads we travelled": Unfrequented places in the Metropolis of Demetrias, Volos Academy Publications 2022 (226 p., soft cover, 22 X 23,5 cm, ISBN 978-618-5375-21-8).