eScriptorium
eScriptorium is a digital tool developed for automatic transcription and has especially proven useful for complex page-layouts and/or texts that are not written in neat lines from left to right. To learn more about this innovative tool read Peter Stokes' blog article.

Webinar
The webinar is hosted by RESILIENCE partner Leibniz Institute of European History in Mainz (as part of its webinar series "60 minutes of DH"). It will be held Tuesday, January 26, 2021 – 14.00-15.00 CET.
Peter Stokes, Directeur d'études at the École Pratique des Hautes Études in Paris and technical contributor to the RESILIENCE infrastructure, will show us how to train a machine-learning model to transcribe a Hebrew text and save the results for further text analysis. In the subsequent discussion, we will focus on the usability of eScriptorium, personal and institutional access, and a comparison with similar OCR / HCR software such as Transkribus. We will consider use cases from different fields of the humanities, e.g. the transcription of other Biblical languages for religious studies or the analysis of modern texts in non-European languages such as Arabic.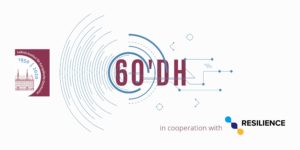 Participation
Join this webinar to get acquainted with two of our RESILIENCE partners who are dedicated to advancing the digital transformation of historical and religion-related research. We invite you to discuss with us the use of cutting-edge technology in humanities and to exchange experiences in digitally supported research.
The webinar is fully booked. If you want to register for the waiting list, please click here. The demonstration of eScriptorium will be recorded and uploaded to our Youtube-Channel later.
For further information please contact Sofie Sonnenstatter.