Agolli Library
Summer Library
The Resurrection of Christ Orthodox Church bookstore
The bookstore of the Orthodox Church on Kavaja Street
Genziah Book Center
National Archaeological Museum:
House of Leaves (Museum of Secret Surveillance) 
The Bektashi Museum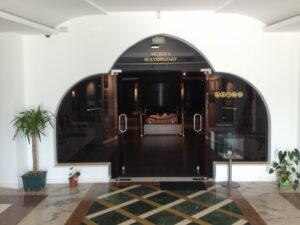 The museum of Bektashism located in the Odeon Building at the Holy Seat of the World Headquarter of Bektashi Community in Tirana
It was inaugurated in 2015, as part of the religious-cultural centre. The visitor gets to know chronologically the 800 years-old history of Bektashee through documents, photos and relics, starting with the Quran and the Prophet Mohammad. A special attention is given to the founder of the Bektashee Hajji Bektash Veli and other protagonists.
Other sections of the museum are dedicated to the aims and purpose of Bektashism, its role in the Albanian national movement, the Bektashi congresses, and the structural organisation the Bektashi Community in six seats. Relics of the Bektashee World Leaders, books and vestments are displayed, and monitors show views of different tekkes, historical events and the Ashura ceremony.